Euromoney, January 7 2019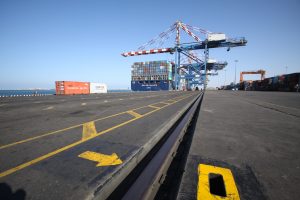 Warning sirens are sounding about the level of debt Djibouti owes to China for Belt and Road projects. The local view is that they need the money and China is the country that is offering it. But the fate of the Djibouti-Addis Ababa railway represents the financial challenges of BRI in a 756-kilometre microcosm.
Euromoney is standing at Doraleh container terminal in Djibouti watching the good ship Callisto being unloaded on a busy wharf. It sounds an obscure place. But this is the perfect vantage point from which to understand the geopolitical importance of the small African state and some important things about China's Belt and Road Initiative (BRI).
In front of us is the Bab el-Mandeb Strait, which links the Red Sea to the Gulf of Aden and the Indian Ocean. Through this bottleneck, just 18 miles across to Yemen at its narrowest point, as much as 20% of all global exports and 10% of total oil export transits pass by, most of it to or from the Suez Canal.
Behind, across about 40 miles of Djibouti's parched volcanic landscape, is Ethiopia and behind that a host of other landlocked African states. Since the coastline south of here for more than 2,000 miles belongs to lawless Somalia, Djibouti's port represents the only way Ethiopia and its interior neighbours can get their goods to and from the sea.
This strategic location is the reason that the transportation sector accounts for 70% of the national economy; it is the reason a new railway has been built to Addis Ababa, funded, built and operated by China. It is the reason China has invested in the port, the free-trade zone and fresh water infrastructure.
And it is also the reason that Djibouti is uncommonly popular with other people's armies. There are 4,000 US troops at Camp Lemonnier, as well as military bases for the French, Italians and Japanese – and, most recently, the Chinese, who have their first overseas military facility here next to the port. The US and Chinese bases are about six miles apart – nowhere else in the world do the two nations have naval camps in such proximity.
There is one more reason Doraleh container port matters: it is at the heart of a dispute that raises important questions about the scope, nature and intentions of the BRI.
Read the full article: https://www.euromoney.com/article/b1clfx2rfvlhx6/africa-why-djiboutis-china-debt-is-raising-the-alarm?copyrightInfo=true