Euromoney, May 9 2019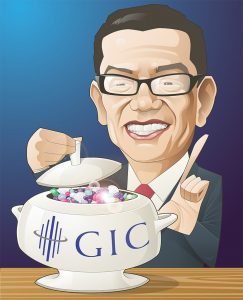 Read the full article here: https://www.euromoney.com/article/b1f9hfdkhkzh7n/asia-sovereign-wealth-funds-lifting-the-lid-on-singapores-gic
In a rare interview, chief executive Lim Chow Kiat explains the investment discipline that underpins one of the world's most influential and sophisticated funds – and his fears over the impact of a polarized political world on global investment.
Full article: https://www.euromoney.com/article/b1f9hfdkhkzh7n/asia-sovereign-wealth-funds-lifting-the-lid-on-singapores-gic?copyrightInfo=true
One day in May 1981, Yong Pung How turned up for his first day as managing director of a new Singapore sovereign wealth fund, although it didn't yet have a name and nobody had ever heard of a sovereign wealth fund.
Seconded from his job as vice-chairman of OCBC, which he had one day been expected to run, he was already taking a pay cut to do this new public-service job. It is unlikely his spirits were greatly improved when he turned up at the Monetary Authority of Singapore offices on Robinson Road to find he had no staff, no secretary, no functioning telephone (it needed a key to activate it and nobody knew where it was) and no chair.
Thirty-seven years later, sitting in its offices on the 37th floor of Singapore's Capital Tower, it is fair to say the Government of Singapore Investment Corporation (GIC) has moved up in the world. It is considered one of the most sophisticated and influential sovereign wealth funds globally.
It might well be one of the biggest too, but the government does not disclose the fund's assets under management (AuM), reasoning that to do so would be to reveal the size of Singapore's financial reserves and make it easier to mount speculative attacks on the Singapore dollar. Few internally even know the magic number.  "That," says one employee, "is a burden I don't wish to carry."
Although it publishes a detailed annual report, GIC doesn't talk a great deal and Euromoney's interview with chief executive Lim Chow Kiat has been a long time in negotiation. In fact, the period from Euromoney's first request for a chief executive interview to this morning's meeting is 11 years.
There have been a lot of changes in Singapore in that time. The whole Marina Bay waterfront has been built, and from the window we can see the cranes of the port being gradually dismantled and moved to new facilities in Tuas, the land to be rebadged as the Greater Southern Waterfront. The city state's constant regeneration is reflected somewhat by its sovereign wealth vehicles. Nowhere else is like Singapore, with three separate sovereign institutions with distinct mandates. The Monetary Authority of Singapore, effectively the central bank with official foreign reserves of S$292.5 billion ($216 billion) as of February 2019, backs the currency; GIC invests and diversifies Singapore's other reserves; and Temasek, founded in 1974 and with S$308 billion under management as of March 31, 2018, has its origins in the stewardship of Singapore's state-owned companies and invests mainly in equities with a mandate to earn a spread over its cost of capital in the long term.
Of the three, GIC is the one that most resembles the classic sovereign wealth fund model: diversified across multiple asset classes, investing purely overseas and with a mandate to beat inflation. Within that framework GIC has reinvented itself several times, first evolving towards an endowment model well before that was fashionable and then conducting another investment review in 2012 to build an investment model for the future. Along with the Abu Dhabi Investment Authority (Adia) and Norway's Government Pension Fund Global, it is perhaps the most closely watched, admired and emulated sovereign fund in the world.
Full article: https://www.euromoney.com/article/b1f9hfdkhkzh7n/asia-sovereign-wealth-funds-lifting-the-lid-on-singapores-gic?copyrightInfo=true