Euromoney, May 2018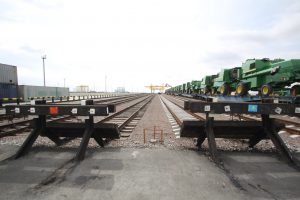 Khorgos, a new state-of-the-art port in the middle of the Kazakh desert, sums up the grand ambitions of the Belt and Road Initiative. But it is as much driven and funded by Kazakhstan as it is by China. Rather than being a white elephant, it has real implications for trade. 
Bored of sitting in Belt and Road Initiative conferences looking at pretty maps and hearing grand statistics but with the nagging sense that nothing is actually happening? Then get yourself to Khorgos.
You can gain no clearer sense of Belt and Road's brazen ambition than the building of this port and its attendant city 1,500 miles from an ocean.
Here, in the desert on the Kazakhstan-China border, we can see genuine evidence of cross-cultural cooperation and serious investment in rail freight from China to central Asia and Europe and back, right on the line of an ancient Silk Road route.
But there is a twist. The port is on the Kazakhstan side of the border. It has not been funded by China, built by China or run by China. The whole impetus, financial and logistical, has come from the Kazakhstan side.
Khorgos doesn't just show us the scope of Belt and Road, it shows that the new Silk Road is not a one-way street.
Kazakhstan is instrumental to Belt and Road. President Xi Jinping chose the capital, Astana, to announce the whole idea in September 2013, and there is some suggestion Xi got the idea from the Kazakh president, Nursultan Nazarbayev, in the first place: Nazarbayev had been talking about reviving Silk Road routes for years.
There is also a good reason to put a large container port here, despite being close to the Continental Pole of Inaccessibility, the point that is further from an ocean than any other place on Earth. A key component of China's vision for Belt and Road is the revival of rail freight, from Chinese factories to central Asia and on to Europe; the route from Yiwu on China's east coast to Madrid is considered the single longest rail route in the world, covering 13,000 kilometres (8,100 miles).
Full article: https://www.euromoney.com/article/b181cffs1klk2d/kazakhstan-belt-and-road-initiative-the-road-to-somewhere?copyrightInfo=true