Euromoney/Asiamoney, April 2017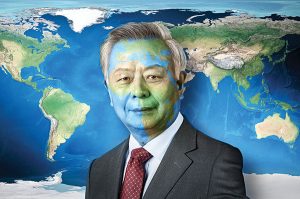 A conversation with Jin Liqun, chairman and president of the Asian Infrastructure Investment Bank, can take you down some interesting literary paths. Before our interview in Beijing kicks off, he quotes William Wordsworth, Charles Dickens and DH Lawrence in reference to industrialization and air pollution, before moving on to Faust and the devil in the works of Johann Wolfgang von Goethe and Christopher Marlowe.
He is recalling a discussion with potential participating countries in the Chinese multilateral during which he used the German writer's themes to show he understood their concerns about joining. "When Mephistopheles was in his study, he wanted to get out, but saw a charm on the door and could not leave," Jin told them. "Faustus said: 'You can get out the window.' But Mephistopheles said: 'No, even devils follow a regimen. We have to leave and enter by the same channel. Entrance is our choice, but exit? We are enslaved.'"
One wonders what the country representatives must have made of this discomfiting allusion, equating membership with the torments of a soul-pilfering devil, but Jin was trying to say he understood their concerns.
"If you induce countries to join with nice words, once they are on the boat and it is moored in the middle of the lake, what can they do? No lifejacket!" He laughs. So, he says, AIIB did everything in its power to make membership inclusive, inviting ideas from member countries about the drafting of the articles of association, and bringing all of them to a meeting at the historic Diaoyutai State Guesthouse in Beijing, not just to be presented with a binding document to sign but to consult them on what those final documents should say.
If Jin has one message he wants to put across about AIIB, it is about inclusion, and that is probably because so much of the AIIB's formation took place against a backdrop of considerable suspicion.
Read the whole article here