Euromoney, February 2018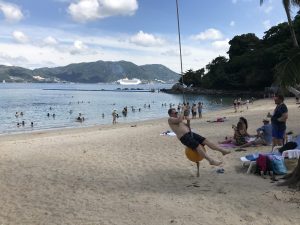 A bitcoin conference on a Thai beach, part of a cryptocurrency cruise, is quite a thing. Libertarian in outlook and cool in attendee, these are bitcoin's true believers. But as the price of bitcoin tumbled in January, why were they still partying like it's $19,999?
A violinist is on stage trying to play along to 'Bitcoin Baron' by YTCracker, which is booming from a 15-foot-high bass-heavy sound system.
"I'm a bitcoin baron, I'm scaring the status quo/Got that crypto dough in that dat file to blow/And the algorithm gon' get 'em until prism," observes YTCracker, believed to be the first person in the history of music to try to get 'algorithm' to rhyme with anything.
It must be playing havoc with the interview a Thai television crew is trying to record with two American financiers, each dressed only in skin-tight Speedos and a lanyard apiece, but the cameraman is more worried about the delegate on a rope swing, who keeps soaring into shot in the background singing 'Delilah'.
In a dress code of board shorts and bikinis – a dress code Euromoney, who turned up in a suit, apparently failed to receive – 800 other delegates are wallowing in the Gulf of Thailand or lying on the massage beds on the shore, beakers of free sangria by their sides.
This is what the lunch break at a Thai bitcoin conference looks like.
"I think I'm overdressed," says a man preparing a Cayman Islands initial coin offering, naked from the waist up and leaning on a sign that reads: "Banana coin: world's first blockchain option for investing in production of organic bananas."
There are topknots on men and Bulgari Flora sunglasses on women.  World Bank annual meetings do not look like this.
"Let's get those bitcoin whales in their seats!" bellows the MC, wearing a 'Start mining now' T-shirt. "Crypto-revolute! Crypto-revolute! Crypto-revolute!"
And slowly the delegates drift back to their seats, an unruly range of plastic chairs beneath umbrellas at the Paradise Beach Club Phuket, facing a stage more commonly used for riotous full-moon parties.
Most of the delegates are halfway through a four-day blockchain cruise from Singapore to Phuket and back, run by the blockchain services gateway CoinsBank. Since bitcoin absolutely tanked after the ship left Singapore two days earlier, its passengers have informally renamed it the 'Bitcoin Titanic'. But this is an inclusive, rambunctious, libertarian crowd, and one senses absolutely anyone would be welcome here bar JPMorgan chief executive and bitcoin denier-in-chief Jamie Dimon.
The MC bellowing about crypto-revolute turns out to be Eric Benz, managing director of bitcoin exchange and merchant processors Cryptopay, who sets a boisterous and celebratory tone despite the fact that everyone on the beach is, on paper, many thousands of dollars poorer than when they embarked upon the cruise.
"Everyone is a crypto friend to me," he says. "It's a special time in this industry. If you don't have bitcoin, buy some. Buy some now.
"At the end of the day, bitcoin is like the tallest tree in the forest: it's there for ever, it's not going anywhere," Benz says, showing a profound misunderstanding of forestry. "For anyone who hasn't gotten involved yet, it's not too late." 

Read the full article here: https://www.euromoney.com/article/b16sv3bv6fdd7n/fintech-up-bit-creek?copyrightInfo=true