Discovery Channel Magazine, May 2015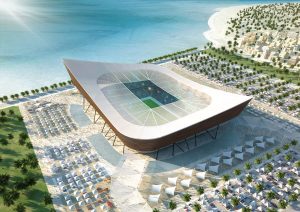 It is July 30, 1966, and the flags are fluttering high above the twin towers of Wembley Stadium: the red and white of England on one tower, the red, yellow and black of West Germany on the other, though to anyone watching the BBC's exclusive coverage of the game, it is of course all black and white. Twenty-one years after the end of the Second World War which pitted these nations against each other, there is still an edge as they meet one another in the World Cup final today; the BBC's impeccably enunciated commentator on the game, Kenneth Wolstenholme, flew more than a hundred bombing missions over Germany earlier in his life.
Many of the people standing in the crowd are in suits. In the royal box, where Queen Elizabeth looks young and beautiful (though her husband Prince Philip looks remarkably identical to today, grimacing in a sort of tongue-poked sneer), Prime Minister Harold Wilson is watching. Next to him, someone is smoking, and if you look closely you can see him stub out his cigarette butt on the floor of the royal box. The players have names like Nobby Styles.
It looks and sounds like ancient history, and indeed it is: much has happened in the intervening period, in the world and in the game. But that moment in 1966 was the first and, to date, last time that England – supposedly the country that brought the game to the world – won football's finest prize. Next year, it will be 50 years, and counting, and counting… and few would bet on the trophy being reclaimed before 60 years is out, or 70.
Still: all that means is that competition is alive and well in this most global of games, that a dozen European or South American teams might lift the prize, and before long perhaps one from Asia or Africa. So just how much has changed in the world of football? Was that sunny day (though, since we'll only ever see it in black and white murk, it's hard to tell) really the bygone age it now appears to be, or are the fundamentals of the beautiful game still intact?
Aficionados of the game would be able to name a fair few of the England team that lifted the trophy in 1966. Most would remember the dashing captain Bobby Moore, the Charlton brothers Bobby and Jack, the magnificent goalkeeper Gordon Banks, the triumphant Geoff Hurst, who scored what is still the only hat-trick in a World Cup final. There's a special place in the heart for Nobby Styles, gap-toothed and gurning, apparently the antithesis of an athlete but in fact visionary in his position. More avid students of the game will recall skillful Martin Peters, the Liverpool forward Roger Hunt, small and squeaky Alan Ball, the full-back George Cohen, and a man who didn't play, the brilliant striker Jimmy Greaves, dropped for the game by manager Alf Ramsey (there were no substitutes back then).
But Ray Wilson? Anyone remember him?
They should. Ray Wilson was the other full-back opposite Cohen, and the two of them had spent much of the tournament redefining just what that position could mean, appearing all over the pitch, putting in crosses and then racing back to defend. He was a long-established senior player by 1966 and had already played in a World Cup in Chile four years earlier, and not long before the 1966 final had lifted the FA Cup for Everton. He played an outstanding tournament, even if he was responsible for Germany's opening goal. And in that most iconic of 1966 photographs, with proud and blonde and handsome Bobby Moore raised on the shoulders of his teammates, Jules Rimet trophy held easily aloft in his right hand, Wilson is the one bearing most of Bobby's weight, his shoulder up the great man's left arse cheek. There's a statue of that picture now, outside West Ham's stadium.
So why don't we remember Wilson? Because not long after the final he turned away from the game – turned about as far as it is possible to go, in fact, and became an undertaker in Huddersfield and Halifax, Yorkshire.  He went from inspiring people to burying them.
This is a man who can show us how things have changed in 50 years.
*
Discovery Channel Magazine finds Ray and his wife Pat in the Pennine village of Slaithwaite not far from Huddersfield, a town reached through roads with names like Thick Hollins and Netherthong Road and Ned Lane. It is classic Yorkshire Pennines, with everything that your hopeful mental picture of such a place would include: a stone viaduct, precipitous hills with rain-stained terraces tumbling down them, a slow-moving river with ducks on it, a restored canal, a chimney stack of black brick, a pub called the Shoulder of Mutton, a café where the full English breakfast is not complete without both black and white pudding.
Pat Wilson, a friendly and generous woman with a sense of unflappable steadiness about her, meets DCM at the gate of her house perched on one of the many hills around the town. She introduces us to their exuberant dog Joe, and Ray emerges from the kitchen.
From pictures of him over the years, it is hard to know what to expect: the rugged hard man he appears to be in club photos from his Huddersfield, Everton and England days perhaps? Simon Hattenstone, the Guardian journalist who tried to track down the surviving members of the 1966 team eight years earlier, described him thus: "Cross the Ancient Mariner with Compo from The Last of the Summer Wine and you've got Ray Wilson." But in person, white-bearded, the word that springs to mind is mischievous: twinkle-eyed and winking, all cheeky asides and one-liners in a voice that mixes Yorkshire with a bit of the mid-sentence plunges of the Midlands (he grew up in Shirebrook, an old mining town on the Derbyshire and Nottinghamshire border).
Wilson is a perfect representation of how the life of the professional footballer has changed over time. It is telling that, in shifting from his job doing shift work on the railways, he took a significant pay cut to join Huddersfield Town in 1952. This is not atypical: most of the boys of '66 would have been in an industrial job if they had not excelled at football, and Jack Charlton, for example, briefly worked down a coal pit. Was work on the railways tough? "No, that weren't as tough as wagon repairing," he says. "I had that job before the railways. Shoving the coal on, and whathaveyou." He can't have been older than 15.
He was earning £15 a week on the railways, which was decent for his young age and the work involved. "When I went to Huddersfield, I signed for £5 a week," he says. "I paid £2.75 for me digs [accommodation]. I could afford a bus one day, but then I had to walk the next two days because I couldn't afford it again." That was a few miles each way. He even had to buy his own football boots.
Pat looks across at him. "We've been poor, haven't we?" How does she remember the time? "Well, we were broke, absolutely stony broke, when we first married. We'd nothing. We could just about afford to survive and that was it." When they married, their accommodation changed from the digs Ray had shared with four or five friends. "In those days there weren't any mortgage to pay because we paid £1 a week rent to stay in a club house. But for a year or two…" She shakes her head. "When I worked, before I gave up, I was earning more than Ray." Doing what? "I worked in the mill. I was a mender."
The mill mender supporting the professional footballer. We are speaking in a week when Wayne Rooney has signed a new deal worth £300,000 a week.
It's not unusual, though, for young footballers to struggle, and the lower leagues today are full of people barely staying afloat, or running other jobs to get by. But what is striking about Wilson's experience – which was wholly representative of the time – is that it stayed pretty much the same even when he was a full international. At the pinnacle of his abilities, he would later sign for Everton, who then as now were among the finest and richest football clubs in Britain, but even then only got £50 a week.
Still, in the classic Yorkshire way, this description of near-poverty is not told for sympathy so much as with a sense of pride of getting by. "We've lived a decent life," says Pat. "But we've never been big spenders, have we, Ray?"
"Well, I'm not," he shoots back. Pat groans: he will spend the interview winding up his wife and then winking, while Pat shoots him looks of infinite contempt and long-suffering tolerance. They're a fantastic double act, grounded and enormously likable.
When Wilson joined Huddersfield Town, then in the second division (what in England today is called the Championship), he came in on the ground staff, and then had to battle his way into the first team. Before having much of a chance to do so, he was called up for National Service and sent to Egypt.
Did he still play while there? "Oh, yeah. I played inside left. We had some really good wins out there: we beat Egypt a couple of times, and we beat Cyprus, a decent team at that time." On what pitches? "In the serious areas there were grass pitches, like in the cities and whathaveyou, but we played out on the sand really." He was 20 when he came back.
Once he did so, it was back to Huddersfield – which is no doubt what he wanted, but then again, he would have had no choice. "Once you signed in them days, that was it," he says. "You signed for that team for life. You couldn't do like it is now, where after a couple of years with one team you can disappear to another team. Which is fair enough, when you think about it: when you're working, you can leave work and go and work with somebody else. But they wouldn't let you do that in football. You might say: I'd like to move away from here. Well, right, bugger off, you're not playing for anybody else. You were tied to them until they wanted to get rid of you."
Still, once he cracked the first team, Wilson thrived there. He quickly became an international – it wasn't so unusual for a second division player to reach national honours because there wasn't the freedom of movement that would concentrate ability among a handful of teams as is the case today. More than that, he became a new kind of player.
"I started as an inside left as a kid, then played outside left, then I played left half, then left back. Then me next move were left out." He's being self-deprecating, but actually the transition he describes – basically a winger to a full back, in modern parlance – was quite significant for the game, and would become especially so in 1966.
"Full backs in them days were six foot two and 15 stone and it took 'em 10 minutes to turn around," he says. "Whereas the wingers they were playing against were five foot five and were straight past 'em." He makes a whooshing noise and motions with his hands. "So it seemed to me a good idea for full backs to be the same as wingers: to be quick. That were start of it."
If you watch a recording of, for example, the 1966 final, Wilson at left back and George Cohen at right back would not look out of place in a 21st century premiership side. They are everywhere: forging forward, getting almost to the opposition goal line and putting crosses in before tracking back to try to keep pace with opposing wingers. They are not just defenders but a source of attack, overlapping with their own players, particularly since manager Alf Ramsey had abandoned his own wingers earlier in the tournament. This was revolutionary stuff in the 1960s, and Wilson has been described as England's first modern full back. "It were new. It were just about the start of that."
Other elements of the game, though, were less progressive, not least the ball. If you go to the excellent Museum of Football in Manchester, you can see the match ball from 1966, which, aside from being a surprisingly vivid orange, shows every bit of its half century-old vintage: it is battered, made of interlocking leather panels, and looks (and presumably is) very heavy. Still, it looks in considerably better shape than another ball in the same cabinet, with which England were hammered 7-1 by Hungary in 1954. That one looks like a deflated leather vegetable, some sort of lethal alien potato that has been drenched, cooked, battered and buried.
"The ball was pretty heavy, and especially when it were raining and the water were getting inside the ball," he says now. "And of course it had laces on. So when you headed that…" He makes a noise like a cartoon, as if Tom were being smacked about by Jerry with a frying pan. "It hurt." When he recorded an interview for the Everton Former Players Foundation in 2008, he said, perhaps in jest, that heading such a ball is the reason he now needs to take tablets to fend off senility, and whether he meant that or not, there are plenty who do believe balls like that have caused mild brain damage in players. It was absolutely routine at the time to see centre-backs coming off the field bleeding. Today, Wilson jokes about it. "I were that good I used to wait to see the ball turn round and headed it then," to avoid the laces.
Wilson made it to the 1962 World Cup in Chile while still plying his trade at second division Huddersfield. He says his time in national service meant he wasn't overawed by the novelty of the place. England acquitted themselves well, losing in a quarter final to the Brazil side that would win that year's World Cup. Through this and later tournaments, he would play against some of the greatest people in the history of the game: Pele, Puskas, Eusebio, Beckenbauer, though he still rates Stanley Matthews as the greatest he ever played against. "The referees used to look after him," he adds. "I had my name taken for farting in front of him."
"No you didn't!" objects Pat. "Stop it! That's a joke." I know it is, because incredibly for a defender, Ray was booked only once in his entire career, and not for a foul, but for dissent (and presumably not for farting in front of Stanley Matthews). You were a clean player, I say.
"I was. I'm a clean husband as well."
Is that true, Pat?
"Shut up."
*
If you are English – and this will sound ridiculous – you will recognize that the World Cup victory in 1966 has come to have a role in the national psyche similar to that of the lunar landings in the American one, in that the more time elapses since it happened, the more improbable it seems that it ever actually occurred in the first place. The prospect of ever winning the World Cup again is such a tantalising yet distant dream that the feat of having won it in 1966 is progressively magnified by every successive failure. The truth is, the heroes of 1966 (as they have latterly come to be seen) were never really properly rewarded for what they did; in particular Bobby Moore, the charismatic captain, died young in financial trouble, and the adulation with which he is now remembered in England seems to have been largely posthumous. Now? They're venerated, sainted, awarded, a reminder that England once excelled at the game it brought to the world before spending half a century being knocked out of major tournaments by Germans and Portuguese on penalties. But, back then, not so much, and the build-up sounds almost mundane.
On the morning of the final, Wilson was rooming with Bobby Charlton, as he had done for some time. "Alf Ramsey roomed me with Bobby," he says. "I were one of them to just let time go by before the match. Bobby always had to kill time by doing shopping, buying this, buying that, and of course he took me with him."
When out with Bobby, Ray would find himself largely anonymous. "Everywhere we went, everybody was saying: "Bobby! Bobby Charlton! Look! And who's that little bugger with him?"
Still, on the weekend of the final, Ray had something else to occupy him: Pat had blown up the car.
"I drove down on the Friday with Norma Charlton," says Pat, Norma being Bobby's wife. Halfway down the motorway, the exhaust went on her Ford Zephyr. "Oh, it did! What a noise it made, as well. Oh, my God." It is fair to say Pat is more emotive about the explosion of her Ford Zephyr's exhaust than she is about the World Cup final itself. "So I dropped the car off where they were staying, and I said: he'll have to get that sorted in the morning."
It was, perhaps, a useful way to kill any nerves, spending the morning of our nation's most significant sporting moment getting an exhaust fixed. But in truth, Ray was little affected by nervousness. "If you thought that were going to bother you, you wouldn't have been on anyway," he says, when asked about the atmosphere within Wembley when he entered the stadium. Pat, who was watching with all the other wives, felt differently. "I was very nervous. I hardly watched the match. I certainly didn't watch the extra time."
On the TV footage, Wilson looks tough and stocky, with thin hair cropped short; he has the look of a short but powerful TV hard man. He had had a terrific tournament, but his World Cup final did not start well. After 12 minutes, he planted a weak header right in front of Helmut Haller, who scored. But from then on, he had an excellent game, frequently forward, never slumping despite extra time that took the total playing time to two hours, in an era when no substitutes were allowed.
What sort of game does he think he had now? "I played a reasonable game," he says. "I made a bit of a mess with the first goal for the Germans, I have to say that. But I say to them: well, I set you going, because when we were one-nil down, we started playing then." He is chuckling: the error has clearly never caused him demons.
The game itself is forever remembered for a few key moments: Germany's last-minute equaliser in normal time, when England were literally seconds from winning; Geoff Hurst's endlessly disputed goal in extra time which bounced on the line (if you're German) or slightly over the line (if you're English), a moment that made a lifetime celebrity of Azerbaijani linesman Tofik Bakhramov; and the very last kick of the game, as Hurst raced forward once again. Surely most of England can recite Wolstenholme's commentary. "Some people are on the pitch. They think it's all over." Hurst unleashes a vicious shot into the German net. "It is now!"
And then there's Bobby Moore, politely wiping the sweat from his palms before taking the trophy and lifting it with a smile as Bobby Charlton, behind him, bursts into tears. God Save the Queen is observed, the Queen herself, in a furry hat, still looking so youthful. (Phillip, meanwhile, still looks miserable.) There's Nobby Stiles, gappy and bounding, and there's Bobby Moore on his team-mate's shoulders.
"Oh yeah!" shouts Ray, reminded of the photo and statue. "Who's the fellow with him?"
"Geoff Hurst," says Pat. "Don't swear." He hasn't sworn.
"He's about six–eight inches taller than me, so Bobby's just off his shoulder. He's only on mine." When sculptor Philip Jackson conceived the sculpture, he gave Wilson an expression of solid, dependable strength, which was entirely fitting for his performance through the game as a whole, but is not quite historically accurate: if you look at the pictures the sculpture was modelled on, Wilson is clearly grimacing under Bobby Moore's weight.
What did they do after the game? Pat says: "Well, there was a banquet, if you like, with everyone else and their wives there, but we wives [ie, the players' wives] weren't invited. After that, we did go out. Can't remember where."
"Did we go dancing?"
"No… I know we went to a club somewhere, but I can't remember where…"
"We'd have had a pint or two, din't we?"
"Oh, I'd imagine so."
Try to imagine what the players and WAGS would get up to if England won the World Cup today.
*
If you had to pick one thing that has changed since Wilson's day, that'd be easy: everything.
Wealth has changed. Player power has changed. The role (the existence, in fact) of agents has changed. The demographic of supporters has changed. The intersection of commercialism – of advertising, of TV sponsorship, of Manchester Utd's official southeast Asian noodle partner – has changed. Fitness has changed. The treatment of injuries has changed. International movement of players has changed. The one thing that's still the same is that everyone still wants to win the World Cup.
On April 19, Discovery Channel Magazine arrives at Wembley stadium to watch the semi-final of the FA Cup between Liverpool and Aston Villa. It is, strictly speaking, the same place where Wilson and his teammates lifted the World Cup trophy in 1966, but in fact that's different too: Wembley has been razed to the ground and rebuilt since then, its famous twin towers replaced with a soaring white arch.
It's hard to know where to start with the differences in the experience between then and now, some for better, some for worse.
The ticket price today is £53; those attending in 1966 bought a book of tickets for the England matches, but, inflated to today's money, it cost about £11 to be at the final.
Arriving at the stadium, we are marshaled now by mounted police, who are taking instruction from helicopters above about the ebb and flow of the 85,000 people who will attend the game. Post-Hillsborough, British crowd management is today outstanding; as recently as the late 1980s, it was haphazard and dangerous.
We go through security and bag checks which would never have been necessary in 1966, then mount a line of long sleek escalators that definitely would have had no place in 1966. Past lines of food and beverage outlets, where one can buy three different flavours of supposedly gourmet pies and wash it down with red wine if one feels so inclined (though there's still, mercifully, scope to buy chips and a pint of bitter), we are ushered through precise ticketing to stewards who, having searched us for alcohol, show us where to go. In 1966, most people would have been standing – and, full of unrestricted beer, occasionally taking a leak right there in the stands – but in England now all stadia are all-seater, and we are up in the third tier, craning to look down to the pitch. There doesn't appear to be one single seat amid the 85,000 with an impeded view, which is a dramatic improvement from the old Wembley of 1966, where pillars abounded and blocked the way.
All around us is advertising: on the tickets, on the screens at either end of the pitch, on the advertising hoardings, in the announcements. A man with a microphone is trying to rev up the crowd and some pre-recorded chants are played to cajole us along. Fortunately, one thing that hasn't changed is that football fans don't need any exhortation to sing and shout, and they do so, while flatly ignoring the songs the organisers appear to want them to sing.
The players come on. Liverpool's starting 11 includes nine nationalities. Naturally, 1966 was a final between nations, but even had it been a club game, it would be very unlikely that either would have fielded a foreigner. The England side of 1966 featured former railwaymen, miners, soldiers, none of them earning much more in football than they did in previous jobs, and perhaps less; on the pitch today, 20-year-old Raheem Sterling is known to have refused a £100,000 per week contract, his representatives – and each of these players will have armies of representatives, making deals happen or stopping them from happening behind the scenes, while negotiating advertising contracts for sunglasses and deodorants and razors and hair gel and real estate and payday lenders – feels is insufficient.
When they start, all eyes are on the tactics: Brendan Rodgers starts with a 3-4-3, then shifts it to a 4-3-3, and the fans spot it and discuss it among themselves, such is the level of tactical awareness that has been schooled into us by post- and mid-match TV analysis. 1966 was far from being a tactical wasteland – Ramsey's wingless wonders were a tactical innovation in their own right – but formations were different, and understanding of them probably weaker too.
Perhaps the biggest difference on the pitch is the level of fitness. Whereas the players of 1966 might have prepared for a match with a pie and a pint without too much trouble – George Best, the brilliant Irish player of the 1970s, is believed to have played drunk – today's players have their nutrition meticulously planned and are run through a fitness program analyzing every last scrap of body fat or lung capacity. Yet despite their superior physical strength, they have a much easier ride, for there are seven substitutes on each bench and three may be used in any game; in 1966, there were no subs at all, and if a player broke his leg in the first minute, his team just had to get on with 10 players for the remaining eighty-nine.
Full time brings a perfectly managed exit from the stadium, as lines of police keep a careful eye on the levels of crowding at Wembley Park underground station, and hold the supporters back in well-behaved bands waiting their turn to move forward. There's no hint of trouble, just as there would not have been in 1966; that ugly period has come and gone in the intervening years. The supporters have been segregated in the stadium but are not kept apart on the trains, and the atmosphere is civil, rival fans dissecting the game. It would be nice to think that, in this respect at least, things have moved a little closer to the good old days.
*
Today, if you ask anyone in England what's wrong with football, they will give you a list.  Ordinary supporters being priced out is a common complaint; money ruining the game, is another; you usually don't have to go too far without hearing a backlash against foreigners (which usually subdivides into two further camps: limiting opportunities for young English talent, and bringing diving into the game); and there's fairly widespread revulsion for FIFA, the governing body of football internationally, too.
Do any of those stack up? Let's look at each in turn.
The first is probably the most legitimate, and the subject of greatest antagonism; on August 14 last year, for example, the Football Supporters' Federation in Britain organised a march on the Premier League headquarters demanding "affordable football for all". Similarly, fans have boycotted specific fixtures – such as Manchester City fans staying away from an away game at Arsenal when their tickets were priced at £62 each – and Arsenal fans themselves are charged up to £129.50 for a matchday ticket, and between £1,020 and more than £2,000 for a season ticket. As recently as 1990, it was possible to stand at Manchester United's Old Trafford for £3.50, and although inflation has clearly affected the cost of all things since then, it's been relatively modest in Britain; that ticket would now be equivalent to £6.94, compared to the actual lowest-priced ticket at Old Trafford this season of £31 (and that's one of the cheapest seats at any top Premier League ground). In Liverpool, the comparison from 1990 to today is £4 then, £46 now – an increase of 1,150%.
Why is this? Well, for a start, it's very important to point out that the comparison is not quite fair, because in 1990, the cheapest ticket didn't get you a seat, but standing room. After Hillsborough, and more specifically the Taylor report that followed it, all grounds in England became all-seater, so it's no surprise that ticket prices went up to accommodate it.
Also – and this is related – it's just supply and demand. Despite the draconian price increases, the waiting list for season tickets at Liverpool and Tottenham Hotspur, among others, is so long it is actually impossible to be added to it. That Liverpool v Aston Villa FA Cup tie? As if the £56 ticket price was not enough, many people around the author had paid more than four times that in order to get the tickets from online sites, because only season ticket holders (and in fact only season ticket holders who could prove they had attended a certain number of previous FA Cup rounds) were allocated the right to buy them at face value, leading to a black market. When people are so desperate to watch, prices go up.
The third reason, naturally, is the huge amounts clubs now have to spend on player wages and transfer fees, which brings us to the second complaint, about money ruining the game. Football is a vast business today: Manchester United's 2013 turnover (the last available figure) was £363 million, with £109 million of gate and matchday income, £102 million of TV and broadcasting income, £153 million of commercial activities and a £181 million wage bill (which is at least lower than Manchester City's which came in at £233 million). In 2013 – and this figure will only have gone up since – Premier League clubs paid their players and staff £1.8 billion, according to the Guardian's football business writer David Conn. In this environment, clubs pay a fortune to compete, and are often dangerously run: in that year, 12 of the 20 Premier League clubs made a loss, and five (Aston Villa, Chelsea, Liverpool, Manchester City and Queens Park Rangers) lost more than £50 million.  This, inevitably, ends up being passed back to ticket buyers, pricing many out.
Set against that, the Premier League clubs benefit from the truly extraordinary amount of money that comes in from TV rights. Sky paid £4.176 billion in February for three years of UK television rights to premier league games – and even that didn't get it all the games, with BT Sport paying £960 million for rights to a further 42 games. And once international rights are sold, as much as £8 billion will probably have been paid.
For many, though, the clearest sight of money ruining the game can be seen in the awarding of World Cups by FIFA. The bidding process for the award of these tournaments is so notoriously opaque and open to corruption that Britain itself has pledged never to take part in another one (though let's see how long that lasts).  If the awarding of the next tournament to Russia, a country which bans homosexuality and has invaded parts of Ukraine, is controversial, that's nothing compared to the 2022 tournament in Qatar, which will now have to be moved to the northern hemisphere winter, disrupting every single national league, because apparently nobody foresaw that it would be too hot to play in Qatar in July. Scarcely a week goes by without allegations of human rights abuses on the workforce who are building the stadia in Qatar, and an accusation that money was the only reason for agreeing to hold the tournament there.
The next argument – blaming the foreigners – is vacuous and easily dismissed. It is possible that the success of foreign players in the Premier League has impeded the development of English players and thus halted the national team's progress in World Cups, but that's hardly the fault of the foreigners, is it? Any English football fan who has watched Thierry Henry, Luis Suarez or Ronaldo at their best has been enriched by the experience. The claim that foreigners have brought cheating and diving and gamesmanship to England is also a week one; the English have as many native divers as anywhere else.
In short, we can sit in the pub after a game and argue around in circles for hours about whether football is in a better or worse state than in 1966; the discussion is part of the fun. But any rational conclusion would have to be: a bit of both.
*
So what do Ray and Pat make of the riches of the modern game?
"I'd be delighted," says Ray. "It'd be nice to play now." Both of them say they don't begrudge modern players their money – "if they're going to offer it, you'd take it," Pat says – but they must look at the Rooneys of this world and think: what if. "It's pointless, it can't be changed," says Ray. "But I wouldn't mind being born like another 50 year on. The money would be nice."
I don't imagine he'd like the celebrity, though. "He wouldn't," Pat says. And how about you, Pat? Would you have liked the Posh Spice existence? "That's not my life," she says. "I admire her, I admire them both. But that's not my style."
Ray chips in with an impish beam:
"She loves spending money."
He's blown it this time.
"No, Ray! You're being very naughty there! I don't spend any money at all, except on food."
Ray, the mischievous expression dimmed by just a touch of sheer terror, shoots me another aside. "She's getting angry."
"I do get angry, because you're saying things that aren't true, and it makes me cross." Never accuse a septuagenarian woman from Yorkshire of being a spendthrift: there is no graver accusation that can be made.
DCM moves on by making a graver mistake still by admitting to being a Liverpool fan. Pat, who is halfway across the room with a cup of tea, stops in her tracks. "You kept that quiet! If I'd known that, you wouldn't have got in the door!" Ray chuckles away and DCM tries to make amends by telling him about one of our favourite photos, when he, at Everton, and Roger Hunt, at Liverpool, carried the World Cup trophy onto the pitch together at Goodison Park before the 1966 Charity Shield. It strikes a chord.
"Oh!" says Pat. "He's a lovely man."
"Do you mean me?" asks Ray, with one more wink.
"No," she says, witheringly. "I mean Roger." And Ray smiles with victorious delight.