Euromoney, July 31 2017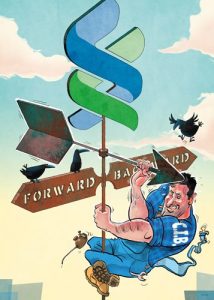 Standard Chartered is ready to talk. After several years of pain, impairments, write-offs, losses and change everywhere from the chairman and CEO to the troops in the trenches, executives believe the worst is over. It is an attitude that extends to the bank's commercial and investment banking unit – its biggest division and the heart of the problems the bank has faced. They are talking of the positives again, of a peerless emerging markets footprint, but of using it in a wholly different way.
Perhaps it was the first-quarter results, released on April 6, that relaxed the bank's management enough to open up. After several years of bad news, starting with a fine for breaching US sanctions in 2012 and culminating in 2015's first full-year loss since 1989 and a doubling of non-performing loans in a little over a year, the interim numbers for the first three months of 2017 showed progress.
Income was up 8% year on year, loan impairments down 58% and pre-tax profits up 94%, although prior year losses on the principal finance business distorted that somewhat. The balance sheet is buttressed, with $1 billion of additional tier-1 capital raised in January and capital adequacy ratios rising to one of the strongest levels of all European-domiciled banks. And CIB? It pulled in $1.6 billion of income, up 4% year on year, a $6 billion-a-year business apparently pointing in the right direction.
Still, let's not forget how much there is to do: no bank that lends $1 billion to Indonesian mining tycoon Samin Tan at the peak of a commodity boom, as StanChart notoriously did, can really expect to recover overnight. Loan impairments averaged $600 million a quarter through 2016. Long-suffering investors did not get any dividends in 2016 when payouts were dropped to cover restructuring costs.
The bank features less often in discussions with competitors because it just does not occur to them to mention it after several years in the wilderness. It was a mess, and senior staff who survived it can sometimes wear a look of shell-shocked exhaustion. When Euromoney euphemistically refers to the bank's bumps in the road over recent years, an interviewee responds: "Wow, that's a polite way of putting it."
When Bill Winters took the top job in June 2015, he had a lot to contend with: shedding weak businesses, including the especially complex and loss-making principal finance business; repairing the balance sheet; making tough decisions on impaired assets; slashing the global headcount; and generally simplifying the whole bank.
Add to that an urgent need for a change in culture. StanChart's old management is described now as sanctimonious or arrogant, depending on which executive is the topic of discussion. They rode the wave of rising emerging markets and wiped out when that wave broke. Lending decisions were made with little thought to the modern-day economics of corporate banking. Bankers were incentivized in inappropriate ways.
A new strategy for a lean, focused and more profitable bank was announced in November 2015, full of mighty numbers: $100 billion of assets to be restructured or exited, delivering $2.9 billion of cost rationalization between then and 2018, removing 15,000 roles over the same period and investing $3 billion into strategic opportunities, technology and better regulatory and conduct systems.
But for CIB in particular, it was quickly apparent that a lot of new blood and a whole new approach were needed. Here was a corporate and investment bank that, despite the difficult years, still had some very good businesses. The key was to run the CIB as a business. And if the business is starting to perform again, it has a lot to do with the people who were brought in to fix it.
Full article: https://www.euromoney.com/article/b1439vqqjscxf3/cooper-points-standard-chartered-in-the-right-direction?copyrightInfo=true