Euromoney, June 2017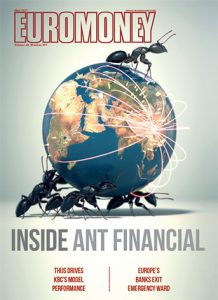 Alibaba, Alipay, Ant Financial – by now everyone in banking knows the triumvirate of brands that have transformed financial services in China, and the domestic story is only the start. Going global will be Ant Financial's biggest-ever test, with tougher markets, tighter regulation and a whole new world of risk management. But it is nothing if not ambitious.
For a company that is changing the world, Ant Financial occupies modest premises. Far from the funky fractured lattices of parent Alibaba's head office, Ant resides in a nondescript grey tower block half an hour's drive across Hangzhou in east China.
There is little signage upon it to mark its dynamic inhabitant, nor much evidence of technological sophistication. In the morning, 6,000 staff scrum to get into the six lifts that serve the building. In an overspill tower five minutes' walk up the road, Euromoney eventually reaches an executive interview via a plywood-flanked goods lift.
Considering that it has been roughly valued as a $60 billion enterprise – the true figure will be clarified if a long-discussed IPO goes ahead – it is worth remembering that Ant is still to a large extent a start-up that has only existed in its current form since 2014. On some floors, that is what it feels like: on one there is a life-size Iron Man figure, which at first glance appears to be working on a Dell laptop next to a table football game and an open-plan kitchen. To one side is an exercise bike next to a wall with an orange-painted mural saying, in English: 'Our family'. Decals of Marvel superheroes cover the windows.
But this sense of geeky Silicon Valley freshness is misleading, because Ant is so much more than an optimistic upstart. A truer sense of the company's modern reality is on its 16th floor lobby.
Here a screen runs 20 feet across a wall, with strict instructions not to photograph it. On it an image of a globe revolves, from which spikes of orange and yellow burst volcanically, representing the payment transactions that are taking place through some form of Ant Financial's Alipay network around the world. They reach a mighty height in China, as you would expect, but bubbles of activity in Russia and Brazil hint at the company's future.
Elsewhere on the screen are stats, but no stats about Ant Financial stay accurate for long: 450 million Alipay users, 200 million online transactions a day, 1.05 billion transactions in 24 hours during a November shopping festival. It is a tricky undertaking to keep track of it all. The communications staff keep a factsheet of the enterprise's numbers, but they have to be revised bi-weekly as the growth keeps accelerating.
In its early years, Ant was observed from overseas with fascination but little concern. Ant and rival Tencent's WeChat platform have demonstrated beyond doubt that China is the world's most vibrant fintech market, achieving domestic usage levels that outstrip the population of most continents. But they have been local, landlocked phenomena.
Now, however, Ant is spreading internationally, with steadily bigger ambitions. Its MoneyGram bid – although in the balance at the time of writing – is the clearest illustration yet that Ant aims to do much more than just serve Chinese tourists in overseas restaurants. This has consequences for everyone in mainstream financial services.
"Our vision is that we are trying to serve 2 billion customers within the next 10 years," says Jia Hang, senior director in the international business unit at Ant Financial and the man responsible for the global roll-out of the core Alipay business. "That gives you a sense of scope."
Only 30% of the human race? Some start-up.
Read the whole article here:
http://www.euromoney.com/Article/3713994/Asia-banking-Inside-Ant-Financials-nest.html?copyrightInfo=true