Euromoney, October 2016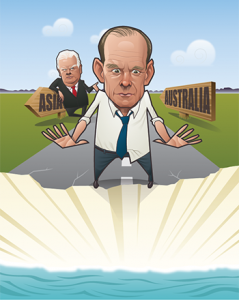 Shayne Elliott's tenure as CEO of ANZ has already been marked by several strategic initiatives since he took the top job in January. None is more striking than the apparent reversal of his predecessor's grand ambitions for Asia. Is there method in the madness of undoing years of expensive effort? And can a renewed focus on Australia deliver growth when some say the domestic industry is past its peak?
Much has changed since Euromoney's last visit to the CEO's office at ANZ. The cast of characters is different; the building itself is different, with ANZ now firmly entrenched in a funky urban campus in Melbourne's Docklands; and the message about Asia is very different indeed. Under previous CEO Mike Smith and his Asia-based lieutenant Alex Thursby, a conversation on Asia was an exercise in grand strategy and bombastic promise.  Over a period of years, the target for Asia's contribution to group earnings, which stood at 7% when Smith joined, got steadily higher, first to 20% and then 30%. Smith spoke of a "super-regional bank". He spent $550 million on acquiring RBS's assets in six Asian markets and probably trebled the headcount within four years, peaking around the 10,000 mark by late 2011. He was still passionately on-message as he handed over the reins to his CFO Shayne Elliott at the bank's AGM in Adelaide on December 17, devoting at least a third of his address to his Asia vision.  But pretty much as soon as Elliott got started in January, it was clear he viewed things differently. In February he said he would abandon the earnings target for Asia and started talking about slimming the business down.
Full article: http://www.euromoney.com/Article/3590293/Banking-ANZ-reaches-the-end-of-the-road-in-Asia